Protect Your Hard Earned Cash
As a business owner, you work hard to not only bring in customers, but to offer the highest quality products and services. Your mission is to satisfy the needs your customers have, no matter what business you are in. As such, you work hard to do just that. However, when others steal from you, this lost money can quickly add up to put your business in jeopardy. Those who operate fish games are no exception.
Fish Game Kings, a maker of the best fish arcade games, now offers an anti-cheat alarm system that is designed specifically for our machines. This anti-theft system intercepts the signals that EMP Jammers make while they are playing the fish game. A loud alarm then sounds to alert you. You can't afford to not have an anti-theft system in place. Contact us today to get started!
HOW AN ANTI-CHEATER ALARM SYSTEM WORKS
Creates a protective WiFi barrier to stop the cheater devices from working. This barrier will run at various frequencies to do so.
Creates a more advanced barrier to cheaters by using a wired barrier. This barrier prevents those cheater devices that have a variable pulse frequency.
Sounds a very loud alarm to notify you of a cheater, which also serves to scare the cheater as well.
FGK Anti-Cheat Alarm System
We all like to think that people are fair, honest, and would never cheat. But that is just not the case. No matter what, a certain percentage of your patronage will try to get something for nothing. This is especially true for fish arcade games.
In a busy truck stop, convenience store, or gambling casino, fish arcade games are often overlooked due to the low amount of money it takes to play them. Oftentimes, it's the card games that garner the most attention, which leaves the other tables by and large unwatched.
By investing in Fish Game Kings' Anti-Cheat Alarm Systems, you can install these on your fish arcade games and gain peace of mind knowing that you will be alerted should someone try to cheat the game.
If you're losing money from your coin operated video games, then the FGK Anti-Cheat Alarm System is your defense against these cheaters robbing you of hard-earned revenue. The FGK Anti-Cheat Alarm system has been specifically designed to secure your fish game cabinets against cheaters using EMP Jammers.
Alarm system intercepts the signal by the EMP Jammers that cheaters are using while playing the fish table game
Picks up multiple frequencies
FGK Anti-Cheat Alarm System sounds a loud alarm and flashes a pulsating red light that will alert the tenant
Mount the alarm on the inside or outside of the machine
Fish Game Kings strives to ensure our customers are taken care of by offering the best customer service and by helping to protect their fish gaming systems. We understand that most people love fish games and play for the pure joy of the game. Our mission is to ensure that those who love the game can continue to play it, despite the few who want to play the system. Contact us today for your FGK Anti-Cheat Alarm System!
Stop the problem in its tracks by proactively defending yourself against arcade game cheaters. And remember, we at Fish Game Kings offer superior equipment with lifetime tech support, so you'll never be left out to dry. It's just one more way we are setting the bar here at Fish Game Kings. Contact us today if you have any questions.
Catch Thieves Red Handed with FGK Anti-Cheat Alarm System!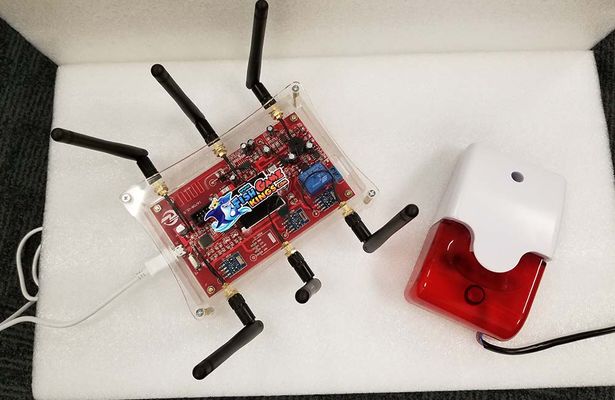 Check out our Anti-cheat Device with Alligator Clips.