King of Crab is the newest, exciting offering from Fish Game Kings and part of the beloved Ocean King 3 family and the Fish Table game line-up. Get in contact with us today to request more information about this new game table!
Better Jackpots
Get ready to be rewarded with four Jackpot gains — Mini, Minor, Grand, and Major Jackpots! And with the new AI Auto Targeting Gun, you have an exclusive feature to help you achieve even greater winnings.
Game Information
Experience the best in fish gaming with King of Crab, now available on our top-of-the-line fish tables. With two, four, or eight players and a robust gaming engine, you're sure to enjoy your time on the King of Crab.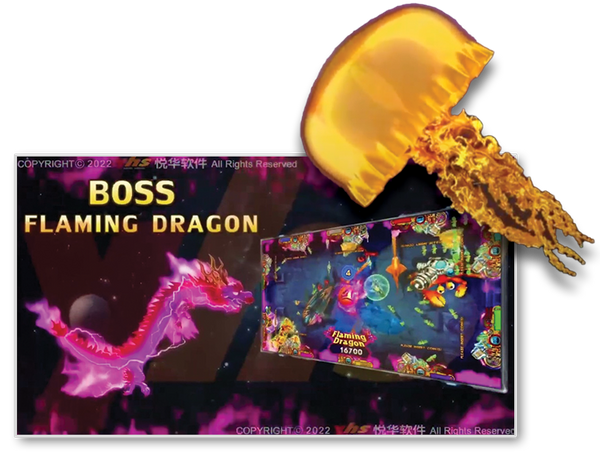 New Bosses to Defeat
In Ocean King 3 Plus: King of Crab, there are plenty of new bosses to defeat. Take on the Blazing Phoenix, with its flaming flock of fiery flight that can dispense a supernova of coins for you to capture. Or focus your lasers on Captain Lobster to piece the golden shields of medieval armor to burst open a maximum cache of coins before she crawls away.
Conquer the Flaming Dragon, a truly marvelous regal mythical creature that ignites a central orb with its powerful purple fire breath. Once opened, this orb produces a barrage of coins for an exhilarating win. And don't forget the Golden Slot Crab — where you must match the symbols for a mega win!
Finally, meet King Squid, the regal and slinky cephalopod that rules the ocean and your playing field. Conquering this creature will produce a boon of ink to fill your coin purse. With so many matches available, it's a veritable parade of riches.
Ocean King 3 Plus: King of Crab
Contact Us to Order Games Now!