FISH SHOOTING GAMES ONLINE
Offering fish arcade games that can help boost the profitability of your gaming establishment.
ATTRACT MORE GAMERS FOR LONGER WITH THE BEST FISH SHOOTING GAMES.
It's no secret that your profitability as a game room operator relies partially on the types of games that you have in your establishment. Fish arcade games offer a level of skill-based gameplay that no other game can and Fish Game Kings is your go-to source for the best fish shooting games on the market. We would love to help you discover all of the ways in which your business can benefit from our games. We offer all of the in-demand games from Fire Kirin Revenge and Kung Fu Panda to Golden Toad's Frog Frenzy and Master of the Deep. Contact us today to request free information!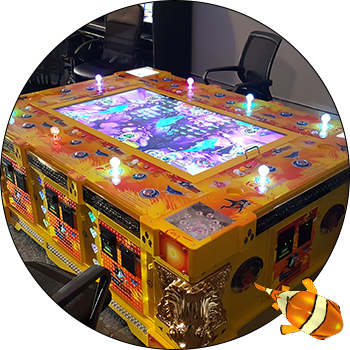 Why Choose Fish Game Kings Over the Competition?
We have been in the business longer than any of our competitors.
We develop and design many of our products in-house right here in the USA.
We offer high-quality gaming cabinets that are built to last
We carry a variety of accessories to help you get the most from your fish arcade game
We offer lifetime tech support on all of our products.
Fish Games are skill arcade games with lots of excitement that creates a social game environment for players to meet and enjoy one another's company while playing against one another. Top skilled players can meet to play these unique games to test their abilities as they challenge one another for top prizes.
HOW TO PLAY THE "FISH GAME"
Players of fish table games shoot the characters on the screen to earn points. Every character has point values associated with them. Some characters have similar point values and these are shown on the game sticker applied to the machine. Tap the Weapon button to increase your point value per shot. Use the Shoot button to shoot your points while moving the Joystick back and forth to select the character you want to shoot.

Some fish game titles allow the player to change weapon by pulling back on the joystick in 2 rapid strokes. In some cases the player will have access to the Electrical Weapon that allows the player to lock onto certain predetermined "Boss" characters. "Boss" characters have higher values and maximize your winnings if you kill that Boss while playing. Other fish arcade game titles allow you to lock your weapon on the characters by simply holding the joystick forward or towards you. Contact us to learn about getting these new fish game titles at your venue.